Program overview
The draft version of the program overview is now available!
Download JTELSS23 program overview version 0.1 here.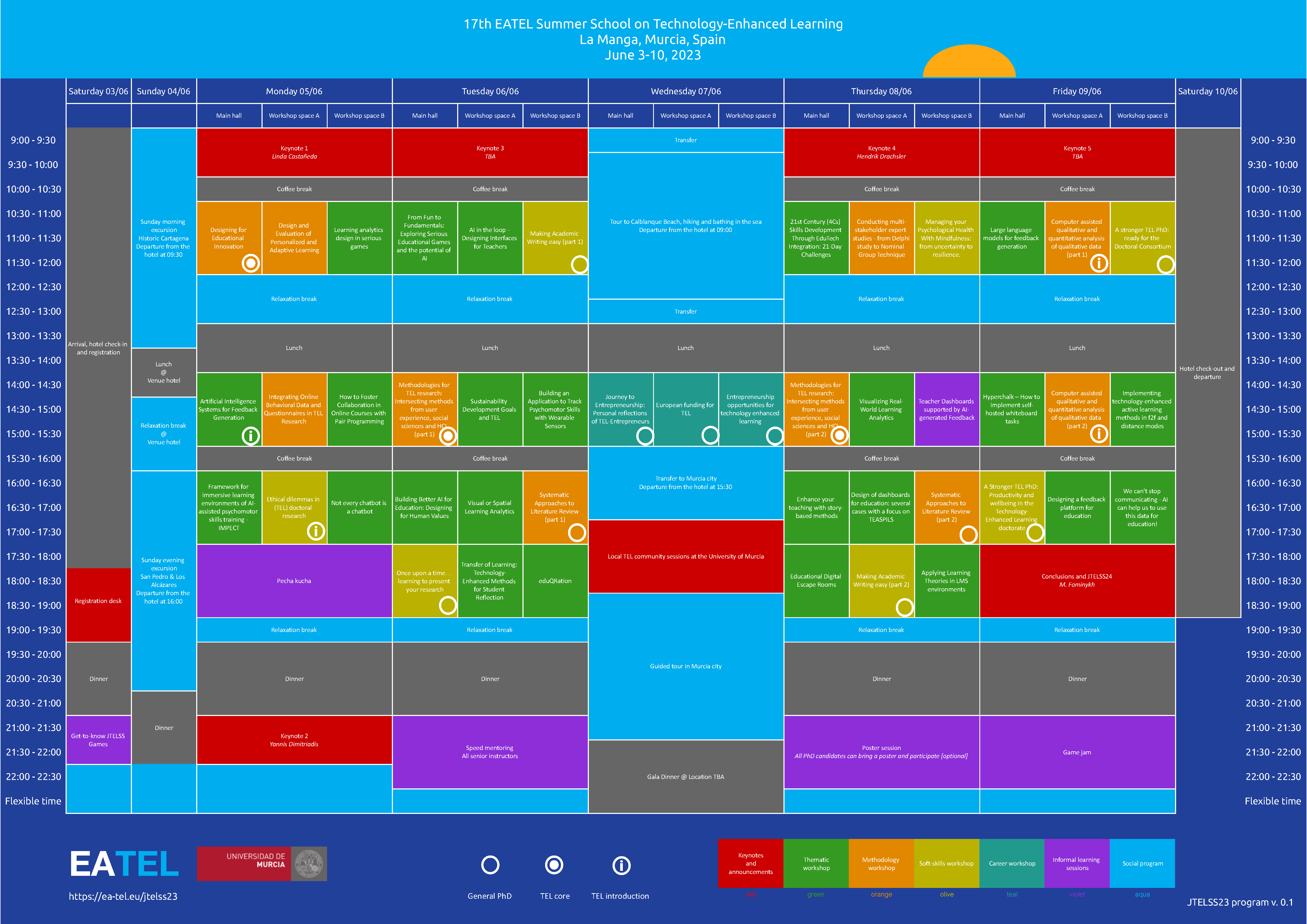 Accepted workshops
Learning analytics design in serious games by Manuel Jesus Gomez and

José Antonio Ruipérez Valiente

eduQRation by Mohamad Firdaus Che Abdul Rani
Systematic Approaches to Literature Review by Md Saifuddin Khalid and

Tobias Alexander Bang Tretow-Fish

Transfer of Learning: Technology-Enhanced Methods for Student Reflection & Their Use in University Courses by Gerti Pishtari,

Marlene Wagner, and Tobias Ley

Sustainability Development Goals and TEL by Christian Glahn
Visual or Spatial Learning Analytics by Kamran Mir
Designing for Educational Innovation by Maka Eradze and

Maha Al-freih

Design and Evaluation of Personalized and Adaptive Learning by Md Saifuddin Khalid and

Tobias Alexander Bang Tretow-Fish

Framework for immersive learning environments of AI-assisted psychomotor skills training – IMPECT by Daniel Majonica,

Khaleel Asyraaf Mat Sanusi, and Roland Klemke

From Fun to Fundamentals: Exploring Serious Educational Games and the potential of AI by Melina Rose and

Roland Klemke

Making Academic Writing easy by Jan Schneider and Bibeg Limbu
Once upon a time… learning to present your research by Jan Schneider and Bibeg Limbu
Not every chatbot is a chatbot by Theresa Zobel
Methodologies for TEL research: Intersecting methods from user experience, social sciences and HCI by Marcus Specht,

Marco Kalz, and Hendrik Drachsler

How to Foster Collaboration in Online Courses with Pair Programming by Sebastian Serth and

Christiane Hagedorn

Building an Application to Track Psychomotor Skills with Wearable Sensors by Gianluca Romano,

Jan Schneider, and Daniele Di Mitri

Teacher Dashboards supported by AI-generated Feedback by Onur Karademir,

Daniele Di Mitri, and Sebastian Gombert

We can't stop communicating – AI can help us to use this data for education! by Nina Mouhammad and

Stefan Hummel

Managing your Psychological Health With Mindfulness: from uncertainty to resilience by Joseph Grannum
Integrating Online Behavioral Data and Questionnaires in TEL Research by Eyal Rabin
AI in the loop – Designing Interfaces for Teachers by Sebastian Wollny and

Jan Schneider

A Stronger TEL PhD: Productivity and wellbeing in the Technology-Enhanced Learning doctorate by Luis P. Prieto,

María Jesús Rodríguez-Triana, Yannis Dimitriadis, and Paula Odriozola-González

Enhance your teaching with story-based methods by Christiane Hagedorn and

Sebastian Serth

Large language models for feedback generation by Sebastian Gombert,

Daniele Di Mitri, and Lukas Menzel

Conducting multi-stakeholder expert studies – from Delphi study to Nominal Group Technique by Linda Helene Sillat,

Kairit Tammets, and Pirgit Sillaots

Visualizing Real-World Learning Analytics by Atezaz Ahmad,

Kamran Mir, Jan Schneider, Daniele Di Mitri, Daniel Schiffner, and Hendrik Drachsler

A stronger TEL PhD: ready for the Doctoral Consortium by Daniele Di Mitri,

Alejandro Ortega-Arranz,

Luis Pablo Prieto-Santos, 

and Oleksandra Poquet

Hyperchalk – How to implement self-hosted whiteboard tasks by Sebastian Gombert and

Lukas Menzel

Designing a feedback platform for education by Krist Shingjergji,

Birce Yilmazkarasu, Michal Slupczynski, Deniz Iren, Gjalt-Jorn Peters, Corrie Urlings, and Roland Klemke

21st Century (4Cs) Skills Development Through EduTech Integration: 21-Day Challenges by Alla Krasulia
Design of dashboards for education: several cases with a focus on TEASPILS by Ishari Amarasinghe,

Ariel Ortiz-Beltrán, Davinia Hernandez-Leo, and Bernardo Tabuenca

Computer assisted qualitative and quantitative analysis of qualitative data by Vilma Sukackė
Implementing technology-enhanced active learning methods in f2f and distance modes by Vilma Sukackė
Journey to Entrepreneurship: Personal reflections of TEL-Entrepreneurs by Joseph Grannum and Yasmin Hussain
Building Better AI for Education: Designing for Human Values by Paraskevi Topali, Ishari Amarasinghe, Alejandro Ortega-Arranz, Maria Jesús Rodríguez-Triana, and Davinia Hernández-Leo
Educational Digital Escape Rooms by Ana Luísa Mateus Oliveira Chança Torres
Applying Learning Theories in LMS environments by Maria Perifanou and Thomai Alexiou
European funding for TEL by Mikhail Fominykh
About the program
The program of the school consists multiple types of sessions.
Keynotes are all selected by organization team together with EATEL board and invited.
Some methodology, soft-skills, and informal workshops are organized every summer school and organized by the JTELSS organization team members and active community members.
Most other sessions are submitted by researchers, developers and managers in the TEL community via the Call for Workshops. These are in most cases thematic workshops, but also workshops of all other types.