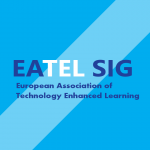 About
Over recent years the use of games for serious purposes and the use of game elements in non-gaming context (gamification) has matured. Several meta-analyses have demonstrated the positive effects of gameful/playful approaches. The field of serious games and gamification is highly interdisciplinary (e.g. computer science, human-computer interaction, design, pedagogy, psychology, etc.) and requires a platform to foster exchange across disciplines and researchers to further advance the field.
This proposal aims at creating a joint SIG created from members of EATEL and the Serious Games Society (SGS; https://seriousgamessociety.org/) to establish a space for collaboration between the two societies in the field of serious games and gamification.
In the field of technology-enhanced learning, game-based learning, serious games and gamification play an important role when it comes to interactive, immersive, and activating learning experiences. So far, this important field of research is not represented as a SIG within EATEL.
The serious games society, established as a follow-up organisation of the FP7 EU-funded Network of excellence Games and Learning Alliance (FP7-ICT-2009-5; https://cordis.europa.eu/project/id/258169), organises the yearly GALA conference series, serious games competitions, and established the open access International Journal of Serious Games (http://journal.seriousgamessociety.org/). SGS is devoted to be a network and supporting organisation for research and practice around serious games, game-based learning, and gamification.
Both organisations thus share common interests. Yet, there is little overlap and exchange between these two organisations yet. The SIG thus plans to establish an interdisciplinary SIG that builds upon the strong foundation of both societies in the area of serious games, game-based learning, and gamification. In particular, the SIG aims to be a place for exchange between the two societies, for collaboration and for the organisation of joint activities to advance the field and support (junior) researchers.
Detailed objectives
The planned SIG rests upon three main pillars:
Networking​: Connect researchers, PhDs, practitioners from both societies and further interested parties to exchange knowledge, ideas, insights. Interested stakeholders can become active members to shape the development of the SIG via a registration form. This virtual network can be used to spread news or announcements on job openings in the field, interesting work, (interdisciplinary-)collaboration requests, upcoming events (e.g. game jams, game competitions, special calls, etc.), game exchange, etc.
Dissemination:​ Shared publication opportunities for members of both societies and beyond on topics related to serious games and gamification (such as conference tracks, special journal issues, e.g. at http://journal.seriousgamessociety.org/index.php/IJSG​). Building upon existing dissemination channels of both societies (EA-TEL conference, GALA conference; International Journal of Serious Games) cross-society publications should be facilitated. SIG members, for instance, may set up a call for a special issue or dedicated conference track and work on emerging topics in the domain of game-based learning and gamification (e.g. analytics, individual differences, reporting standards, etc.).
Events​: Jointly organised events and activities (such as special workshops, webinars, lectures, talks). Building upon existing events of both societies (webinars, conferences, summer school) SIG members shall organize joint events to discuss hot topics and exchange knowledge. For instance, in the first year, the two SIG chairs plan to give a webinar on emotional factors in game-based learning.
Planned activities
Joint events at JTEL Summer schools
Special tracks/events at EC-TEL / GALA conferences
Joint webinars on Serious Games and Gamification
Special issue for IJSG (International Journal of Serious Games)