The 16th EATEL summer school is postponed.
The Sixteenth EATEL Summer School on Technology Enhanced Learning 2020
Sani, Halkidiki, Greece | May 23-30, 2020
https://ea-tel.eu/jtelss/jtelss2020/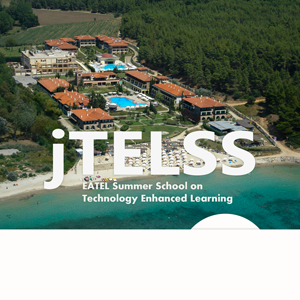 Announcement
We are pleased to announce the 16th EATEL Summer School on Technology Enhanced Learning (JTELSS) that will take place in Sani, Halkidiki, Greece on May 23-30, 2020. The summer school is organised by the European Association of Technology Enhanced Learning – EATEL. 
The hosting city of the Summer School 2020 is Sani, a famous area of Halkidiki, located 83 km from Thessaloniki, the second largest city of Greece. Halkidiki is the region in the north of Greece, projected to the southwest in the Aegean Sea, and extended to three peninsulas: Cassandra, Sithonia and Athos. Halkidiki is one of the most well-known summer destinations of Greece blending the Aegean turquoise beaches with the pine trees nearby the sea. The special beauty of the region resulted in the characteristic phrase "Like Halkidiki, nowhere!" when someone wants to describe Halkidiki.
The Summer School will take place in the Simantro Beach Hotel, a 5-star resort located in Sani, Halkidiki. The plenary sessions of the school will be hosted by the main conference hall of the hotel. The hotel is built on the coastline and features several restaurants and bars, fully equipped beach, 4 swimming pools, animation team, mini market, spa area with gym and many sports facilities. There is a stony beach equipped with umbrellas and beds. 
Halkidiki can be easily accessed by car and public transport. The International Macedonia Airport of Thessaloniki is one of the busiest airports in Greece and it is well connected by all types of airlines and airline networks. The airport is interlinked with a road network that is among the best in Northern Greece. Travel time from the airport to the hotel is approximately 1 hour. Several transfer options from and to the airport are available for a reasonable price.
Call for Participation
The call for participation is available here.
Social Media