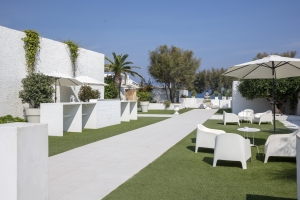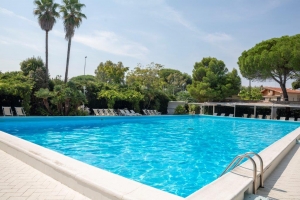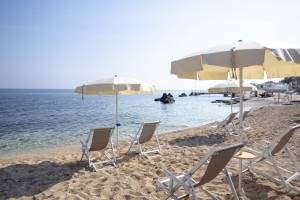 The Hotel Riva del Sole (https://hotelrivabari.com/) is a 4-star resort located in the locality of San Matteo, 5 kilometres away from the beautiful town of Giovinazzo, 15 km from Bari and 10 km from the international airport Karol Wojtyla.
Thanks to its proximity to the city centre the airport, the Hotel Riva del Sole is an ideal departure point for excursions around the main tourist attractions in the area. The Hotel Riva del Sole is rated 8/10 (very good) on Booking.com based 570 reviews. The Hotel is built on the coastline, at about 200 metres from the beach. There is a private stony beach equipped with umbrellas and beds. There is also a bar on the beach.
Inside the resort, there is a restaurant that hosts events, such as weddings or birthdays. There is a pizzeria, an outdoor swimming pool, a tennis court, a panoramic terrace, a garden, and a banquet hall.
Even though the hotel is located in a quite are (closest town is 5 kilometres), there is public transportation going both to Giovinazzo and to Bari. The hotel can provide up to 10 bikes for rent for free. People can ride safely their bikes using a bike path separated from the main road. Location on Google map: https://goo.gl/maps/X3iobd2tsWt
The hotel also has internet access and offers transportation shuttles to and from the airport upon request.
The main conference room will be the Austro Hall (banquet hall). The hall is a very spacious and bright room with windows facing the seaside. It will be organised an audience with 60 chairs. It will be equipped with: projector, screen, microphone, amplification, and wifi. The secondary conference room is the Sala Melograno, located in another area and accessible via stairs. It will be organised for 25 people.
The accommodation is available in the resort as requested in single or double occupancy.