The EATEL Summer School on Technology Enhanced Learning
Inspirational instructors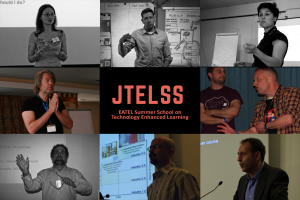 More instructors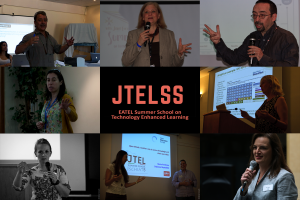 Even more instructors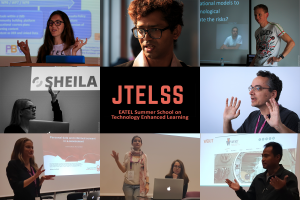 Interactive poster sessions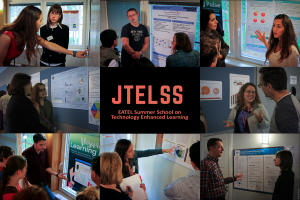 Technology workshops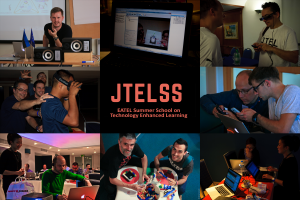 Interaction workshops
Launched in 2005, as the Joint Summer School on Technology Enhanced Learning (TEL), the event brings together each year 80 to 100 researchers, including about 50 PhD candidates. The JTEL summer school provides a stimulating learning environment where participants get opportunities to: develop research skills, increase their knowledge base, collaborate with others in their own and complementary research areas, engage in debate, have access to experts in the field, and discuss their own work.
Program and topics
The program of the summer school covers topics from a broad range of domains which contribute to advancing the field of TEL. Instructors are encouraged to provide doctoral candidates with a perspective of the state-of-the-art research under study in their working groups. The programme also includes practical and methodological workshops as well as opportunities for PhD students to develop their personal research, discuss their doctoral work and build bridges for future collaborations experts in the field and peers across Europe. The summer school is open for PhD students and instructors from all countries.
Thematic Workshops on the key concepts of TEL
Online and Blended Learning Environments
Open Educational Resources and MOOCs
Serious Games and Gamification
Learning Analytics
Orchestration of Technology-Enhanced Learning
Adaptive and Personalised Learning
Intelligent Tutoring Systems
Mobile and Ubiquitous Technologies for Learning
Computer Supported Collaborative Learning
Technology-Enhanced Assessment
Formal and Informal Learning
Technology Enhanced Language Learning
Motivational and Affective Learning
Augmented Reality and Virtual Reality in Education and Training
Sensors, Robots and Maker Spaces in education
Technologies for Accessible and Inclusive Learning
Methodology Workshops
Research Methods in Technology-Enhanced Learning and Research Design
Academic Writing and Publishing
Presentation of Research Results
Research Ethics
European Funding for Research
Boosting Research Career Using Social Media
Pitching of Research Ideas
PhD Life and Supervisor Management
Informal Learning Sessions
Pecha Kucha – introduce yourself in 2 minutes with 2 slides
Fish Bowl – highly engaging and intensive discussion
Speed Mentoring – short one-to-one mentoring with several senior researchers
Educational Board Games – learning research design in a highly informal setting
Technology-Enhanced Learning community-development discussions
PhD students presenting own research
Poster session
Mini-doctoral consortium
Value of the summer school
JTELSS provides great value to the progress of research and studies of PhD students in TEL. The contents of the school can extend or replace some of graduate courses on relevant topics and research methodology. Instructors delivering lectures and workshops see the value of the summer school in the possibility to disseminate research results, collect ideas from brainstorming and mini-project competitions, test interactive sessions before running them at larger events and more. JTELSS is a primary event in Europe for dissemination and networking in the Technology-Enhanced Learning community.
Cost of the summer school
The cost of the school varies each year. It depends on the local host and conditions. For PhD students, we normally offer a package price that includes 7-days accommodation (share a room twin with another PhD student), meals (full board), two excursions and materials.
JTELSS follows a non-profit scheme. The organization team and the program committee members work as volunteers to make the event possible. The educational program of the school is provided free of charge. The cost of the school covers accommodation, meals, excursions and printed materials.
PhD students can use different funding schemes to cover the cost of the summer school. A limited amount of scholarships are normally given to the PhD students to cover the cost of the summer school (accommodation, meals and excursions). We also advise you to look for local or university funding. Another option to cover the cost is to apply for an Erasmus+ mobility funding. For this option, please, contact your international relations office.
Instructors who plan to deliver lectures and workshops often use funding from research projects to cover the cost. Erasmus+ teacher mobility funding is also an option.
Normally, we have special conditions for local PhD students and instructors. Please, contact the local chair for more information.
Social Media

Facebook page


Twitter account
Hashtag #JTELSS
Past summer school events
2019 Italy
2018 Albania
2017 Portugal
2016 Estonia
2015 Italy
2014 Malta
2013 Cyprus
2012 Portugal
2011 Greece
2010 Former Yugoslav Republic of Macedonia
2009 Slovakia
2008 Former Yugoslav Republic of Macedonia
2007 France
2006 Slovenia
2005 Turkey
Steering Committee
Katherine Maillet
Mikhail Fominykh
Marco Kalz
Ralf Klamma
Denis Gillet
Fridolin Wild
Christian Glahn