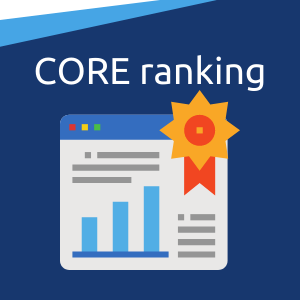 Milestone reached: EC-TEL classed in CORE ranking
EC-TEL classed as well-regarded conference
EC-TEL, the flagship event of the EATEL, has been classed as a "well regarded" conference in its discipline area in the CORE ranking (B). This means that EATEL's strong efforts for submission have been rewarded and a major milestone has been reached.
Comment and rate EC-TEL now!
You can rate EC-TEL and leave a comment via LinkedIn on the CORE portal. If you decide to support us and the conference in this way, we thank you very much for taking the time!
CORE assesses major conferences in computing and education to advance research and practice in that area. To evaluate the relevance and quality of conferences, CORE committees considers
how well papers from the conferences are cited,
the researchers that are engaged and publish at the conference, and
the status of the conference's Publication Chair
CORE considers various indicators such as citation rates, paper submission and acceptance rates by assessing data from Google Scholar (h5 and h-index), Elsevier, ACM and influential papers from the venue among others.
CORE is an association of university departments of computer science in Australia and New Zealand.