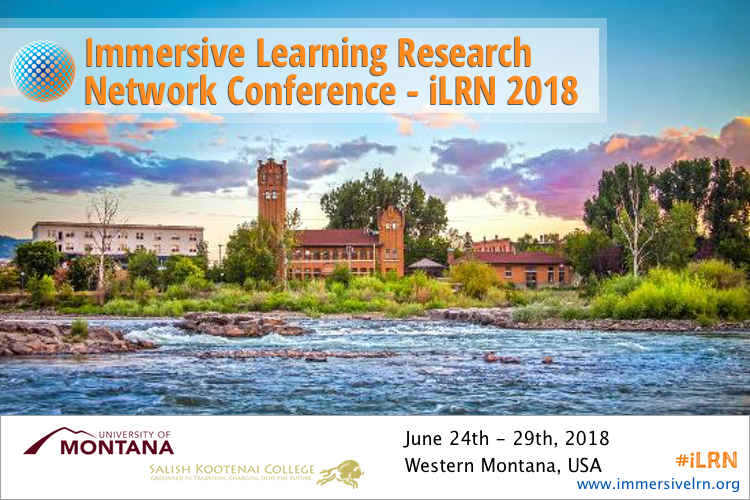 Special Track on Wearable Technologies for Learning @ iLRN 2018
CALL FOR PAPERS
Special Track 7 – Wearable Technologies for Learning at iLRN 2018
Overview
Wearable technologies with analytics– such as smart watches, smart glasses, smart objects, smart earbuds, or smart garments – are starting to change the way we learn, shaping behavior and transforming learning into immersive user experiences in formal education, informal learning and learning in the workplace. Wearable user interfaces are also transforming user experience, improving integration of technologies into everyday life, education, and work. Since wearable technologies are likely to shape the future relationship between humans and computers, it is essential to look beyond the current perspective of how wearable technologies may enhance learning in the future.
Wearable Enhanced Learning (WELL) is beginning to emerge as a new discipline in Technology Enhanced Learning (TEL) in combination with other relevant trends like the transformation of classrooms, new mobility concepts, cyber-physical systems and the transformation of industries like logistics and industrial production. Wearable-technology Enhanced Learning (WELL) is a transformational step in the transition from the desktop age through the mobile age to the age of wearable, ubiquitous computing designed for learning and to prompt change in behavior. Related research has recently been highlighted by the U.S. National Science Foundation in calls for proposals related to Cyberlearning for Work at the Human-Technology Frontier.
Wearable devices are body-worn, equipped with sensors and conveniently integrate into leisure and work-related activities including physical movements of their users. Wearable technologies are also breaking the established ground in the realm of consumer electronics. According to the recent forecasts (e.g. Cisco, Gardner, Deloitte) for 2018, portable technologies, including mobile and wearable devices, will form the basis of personal communications with the global wearable device data traffic increasing by over 60%.
This special track is the 6th international annual event of the Special Interest Group on Wearable Enhanced Learning (SIG WELL) which is part of the European Association for Technology Enhanced Learning (EATEL).
This special tract is intended to present current research and development in the field of Wearable Enhanced Learning from Europe and USA and stimulate further scientific and industrial knowledge exchange in this field.
Part of the special track will include the presentation of the current state of the art in Wearable Enhanced Learning which will appear in the upcoming Springer Book titled "Perspectives on Wearable Enhanced Learning: Current Trends, Research and Practice" as well as current European and US research projects in the field including WEKIT "Wearable Experience for Knowledge Intensive Training" (funded under European Union's Horizon 2020 research and innovation programme) and SMART Emergency Medical and First Response Multiteam Systems (action cluster team under the U.S. National Institute for Standards and Technology (NIST) Global City Teams Challenge).
TOPICS
Suggested topics include—but are not limited to:
Wearable technologies in learning scenarios
Learning designs with wearable technologies
Collaborative wearable technology enhanced learning
Wearable technologies for learning in the industry
Wearable technologies for learning in the field of health and fitness
Wearable technologies and affective computing
Learning Analytics for wearable technologies for learning
TEL applications of smart glasses, watches, armbands
Learning context and activity recognition for wearable enhanced learning
Body-area learning networks with wearable technologies
Data collection from wearables
Feedback from wearables
Augmented Reality Learning
Ad-hoc learning with wearables
Micro-learning with wearables
Security and privacy for wearable technology enhanced learning
Authors are encouraged to rethink the future of learning once wearable user interfaces are widely and easily available for any learner toward the design and development of future learning and work environments leveraging advanced technology as well as inside and outside the classroom.
AUTHOR INFO
Phase 1: Abstract submission (500 word summary) – Deadline: February 15th, 2018
Please submit a 500 word summary (approx. 2 pages) via EasyChair. Submissions may include work from past, current and future projects and must focus on sound research. Submissions will be peer-reviewed and authors notified including detailed feedback for preparing the paper submission in form of a short or long paper.
For submitting an abstract to this special track, please use the submission system https://www.easychair.org/conferences/?conf=ilrn2018, log in with an account or register, and select the track 7 " Wearable Technologies for Learning " to add your submission.
Deadline for submission of abstracts: February 15th, 2018
Notification of authors: March 1st, 2018
Phase 2: Paper submission (short and long papers) – Deadline: April 15th, 2018
After notification authors of selected submissions will be asked to submit their papers. All papers must follow Springer's style guidelines. All papers will be published in Online Proceedings.
Long papers must not exceed of 10-12 pages.
Short papers must not exceed of 6 – 8 pages.
Submitted papers must follow the same guidelines as the main conference submissions. Please visit https://immersivelrn.org/ilrn2016/author-info/ for guidelines and templates.
For submitting a paper to this special track, please use the submission system https://www.easychair.org/conferences/?conf=ilrn2018, log in with an account or register, and select the track 7 " Wearable Technologies for Learning " to add your submission.
Contributions are welcome as work-in-progress, research results, technical development, and best practices. Research, development, and best practices contributions will be accepted according to their quality and relevance either as full or short papers. Work-in-progress will only be accepted as short papers.
Deadline for submission of papers: April 15th, 2018
DEADLINES
Deadline for submission of abstracts: February 15th, 2018
Notification of authors: March 1st, 2018
Deadline for submission of papers: April 15th, 2018
SPECIAL TRACK CHAIRS
Ilona Buchem, Beuth University of Applied Sciences Berlin, Germany
Contact: buchem@beuth-hochschule.de
Brenda Bannan, George Mason University located in Fairfax Virginia
Contact: bbannan@gmu.edu
PROGRAM COMMITTEE
Ralf Klamma, RWTH Aachen University, Germany,
Fridolin Wild, Brookes University, UK
Michael Fominykh, Norwegian University of Science and Technology, Norway
István Koren, RWTH Aachen University, Germany
CONTACT
Special Interest Group on Wearable Enhanced Learning
SIG Wearable-Enhanced Learning (WELL)
Ilona Buchem, Beuth University of Applied Sciences Berlin, Germany
Contact: buchem@beuth-hochschule.de
Brenda Bannan, George Mason University located in Fairfax Virginia
Contact: bbannan@gmu.edu